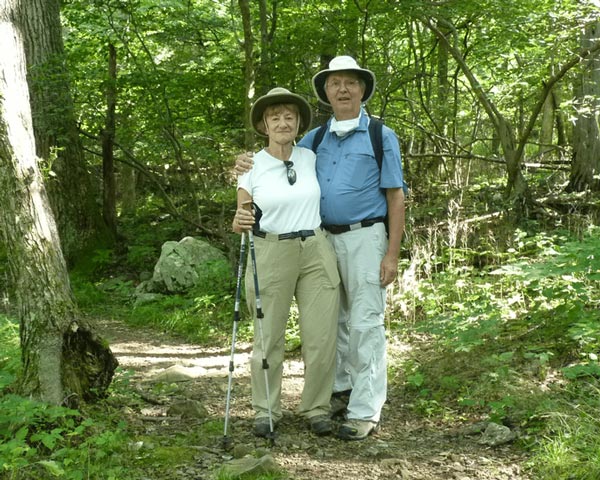 There are 423 designated National Parks across the United States. So far, Eric and Kathleen Minadeo Johnson have been to 413 of them.
Happily married for 52 years, the couple's adventures have taken them as far as the beautiful oceanside of Kalaupapa, Hawaii to the majestic mountains of Yosemite.
"It was a goal we set together after I retired to visit all of the National Parks" Eric shared. "We love exploring the outdoors together."
At the start of 2020, their goal was within reach — until in March, a deadly virus pandemic swept across the globe, putting their cross-country adventures on pause for the foreseeable future.
But rather than just hunker down, and wait for the pandemic to pass, Eric and Kathy knew that they had more important things to work towards. Mainly — helping their neighbors in need, in whatever way they can. So they took much of the money they would have spent traveling, and donated it to United Community.
"Helping United Community is really the best thing we could be spending money on right now," Eric explains. "We can't go/travel anywhere right now. We really feel that the best investment is in the community; so rather than put this into savings, we want to put this money into the community and help those who really need it, right now."
Eric and Kathy first learned of United Community while attending Good Shepherd Catholic Church in 2008. The couple were quickly drawn to United Community's mission — starting with their church's food drives to benefit United Community's food pantry.

"Neither one of us has ever been in a situation where we were poor," Eric adds. "We always had meals on the table. Which is part of why we feel so strongly about giving back to the community."
Eric has seen first-hand the impact that giving back can have on an organization. Prior to his retirement, Eric spent nearly three decades in the philanthropy world, working to fund major university programs at M.I.T., Carnegie-Mellon, and Rice University. Shortly after moving to the DC area, he became a fundraising advisor to United Community's Board of Directors until July 2017, when he became a member.

"The agency's commitment to eliminating multi-generational poverty is a huge reason why I became a board member," Eric said. "I think United Community is poised to become ever-more impactful in the community."

However the scale of that impact, he says depends on how much support comes from community members.
"Take these stimulus checks, for example," Eric explains. "It's very clear to Kathy and me that this COVID relief money would help a lot of people waiting in line at the food pantry."
"So when we got our stimulus checks last spring and again in late December, we didn't hesitate. We donated them straight to United Community. And we plan to do so again if there are future payments."
"As a family, we sit down at the dinner table each night, knowing that we have no problem putting food on the table," Kathy adds. "Not every family can say that. Donating what we can is not just the least we can do — it's the right thing to do."
We'd like to thank Eric & Kathy for their incredible investment in our community! Their support means so much to families in need. If you would like to join them, please go to www.donateuc.org and make a donation today!