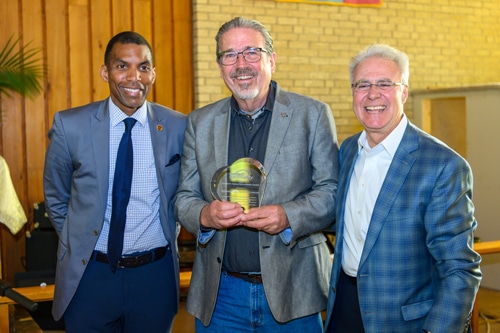 The Board of Directors of United Community, the leading human services organization serving the Route One corridor, will be presenting its highest honor, the Gerald W. Hyland Humanitarian Award, to the Reverend Dr. Keary Kincannon, a tireless advocate for the community who retired as pastor of Rising Hope Mission Church last year. 
United Community's Board of Directors created the Hyland Award in 2017 to recognize outstanding individuals who have demonstrated a long-term, sustained commitment to serving people in need through empowering, transforming and enriching the lives of residents of the Mount Vernon/Lee District communities. The award is named for Gerald W. Hyland, a former member of the Fairfax County Board of Supervisors who represented the Mount Vernon Community for 17 years prior to his retirement in 2015.
The award will be presented to Rev. Kincannon at United Community's Volunteer Appreciation Day on April 23, 2022, at Woodlawn Faith United Methodist Church.
"Keary Kincannon has been a longtime advocate for people who might otherwise be forgotten," said Thomas J. Curcio, Esq. Board Chair at United Community. "Growing up in the Fort Hunt area, he was keenly aware of the tremendous needs faced by many people here, and he set out to make a difference and give a voice to those who might not otherwise have one. His impact on residents in the Route One Corridor is truly immeasurable, and we are so proud to honor him with the Gerald W. Hyland Humanitarian Award."
Rev. Kincannon started Rising Hope out of a desire to serve the community along the Route One corridor that he called the "least, lost, lonely, and left out." During his tenure, he established a food pantry, soup kitchen, clothing closet, hypothermia shelter, recovery programs, employment resources, and other emergency aid to assist those in need. Rev. Kincannon was also a founding pastor of Virginians Organized for Interfaith Community Engagement (VOICE), a broad-based citizens organization dedicated to social justice issues facing low and middle-income residents.
"I am honored to receive the Gerald W. Hyland Humanitarian Award from United Community," said. Rev. Kincannon. "Supervisor Hyland was a great example of giving back to the community, and I have been so blessed to do this same for the residents of this community. There is no greater gift than helping people at their time of need."