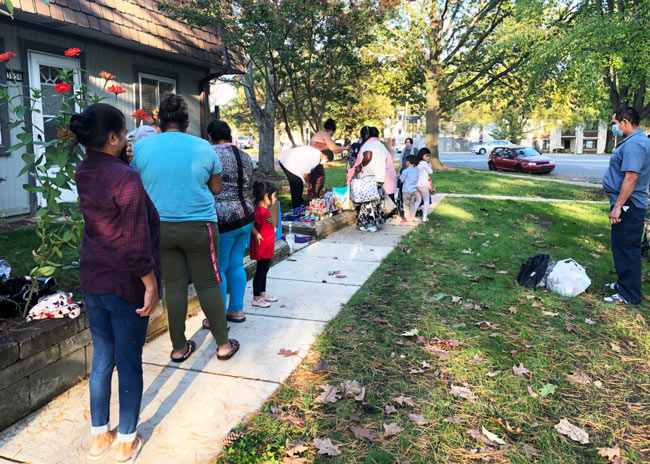 Last Wednesday, I stepped out of my parent's 2008 Honda Odyssey (also affectionately known as the family bus), and looked across the parking lot to the Alexandria Mega-Mart. I had a little more than an hour to get in and out — which for most people is pretty manageable. Except, I wasn't going shopping for my family. I was shopping for 60+ families.
Since March, our Director of Collective Impact, the amazing Yolonda Thompson, has held a food distribution at her home in the Sequoyah neighborhood. Families in Sequoyah have been hit especially hard by the pandemic. Despite the slowly reviving economy, most residents there are still out of work or underemployed.
The distributions started out small — a couple boxes of canned goods and diapers that were passed out to neighbors as they walked by. But it didn't take long for word to spread. Soon neighbors lined the block, waiting in the cold for up to an hour before the distribution was even scheduled to start. On any given week, the distribution serves between 50-100 families.
In a neighborhood with street names like Manzanita (Spanish for "Little Apple") and Mariposa (Spanish for Butterfly), it's hardly surprising that many of Sequoyah's residents do not speak English as their first language. Fortunately, kindness is a universal language — one that many of Yolonda's neighbors are quite fluent in.
Maria is one such neighbor. When this strong matriarch from El Salvador lost her job at the onset of the pandemic, the food distributions were often the only way that she could feed her two daughters and grandchildren. But rather than just take food from the distributions, Maria realized that she had something she could give as well — her time.
All of us can make a difference — in our own lives and in the lives of those who need our help!
When I first visited the food distributions, Maria and her friend Yessica were regularly volunteering to help Yolonda distribute food and orient their neighbors. At first, I was only there to help translate. Yessica and Maria speak very little English and Yolonda didn't know Spanish. But as I got to know and interact with these women, it grew into so much more.
There's something incredible about watching two people — who don't speak each other's language — come together for a common purpose. They may not understand each other's words — but they know each other's feelings. They work, and laugh, and talk with one another — and somehow walk away understanding more about the other than I think most people of the same culture would, given the circumstances. It didn't take long for me to look forward to those Wednesday nights.
Which is how I came to be standing in a Mega-Mart parking lot, last Wednesday. Yolonda was unable to organize the distribution that week, and had asked if I could help out. She gave me a list of items she usually buys and told me roughly how much I should spend — the goal being to get as much as I could to feed as many families as possible.
Walking into Mega-Mart, I met Mr. Netty — the store manager who had worked with Yolonda many times before. Together, we weaved through the aisles, filling the shopping carts I dragged behind me, as we went. 72 bags of beans. 50 bags of rice. 30 bags of sugar, salt and corn flour. To that we added oil, limes, oranges, tomatoes, and three big boxes of bananas.
When all was said and done, we loaded $730 worth of groceries into the van and I quickly drove off to the distribution site. Maria and Yolonda had told the neighbors that we would start handing out food at 3:30pm. It was already 3:15.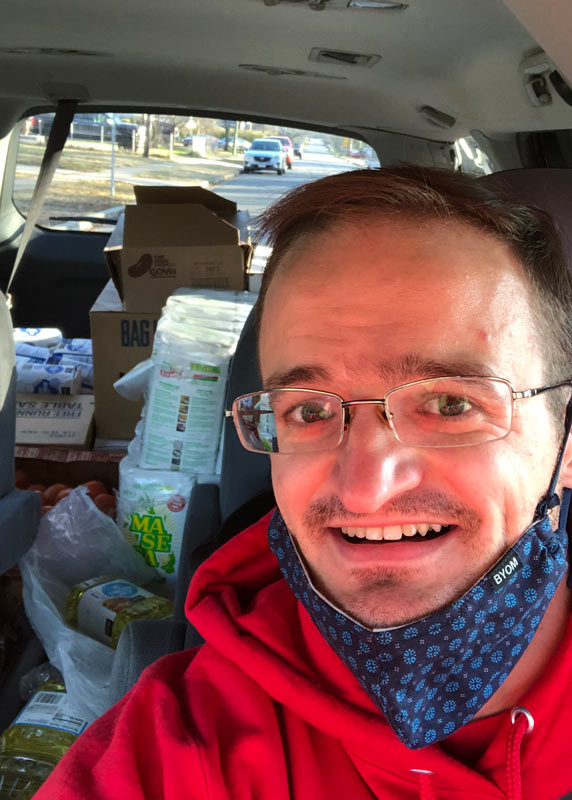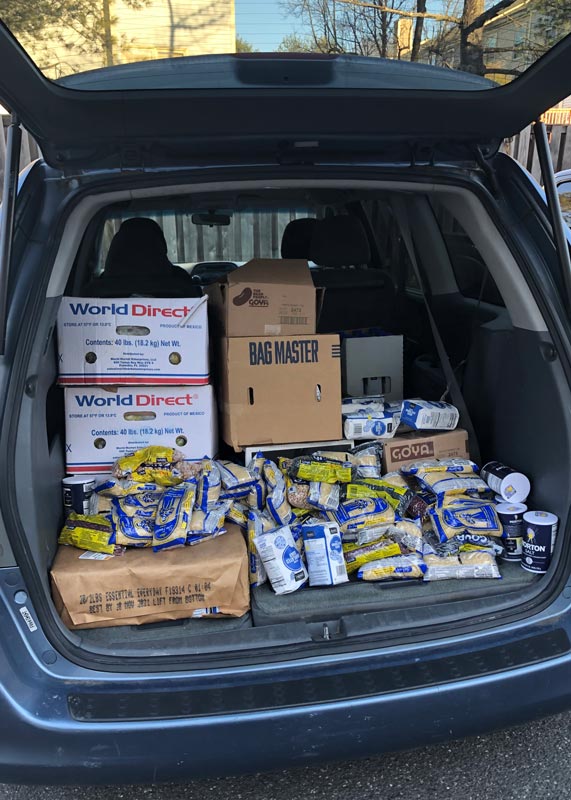 By the time I arrived there were already at least thirty people waiting in a line that followed the sidewalk down the block and around the corner. Three or four women at the head of the line recognized me and quickly came to help unload the van and organize the food to make it easier to distribute. Soon the line began to move, as one-by-one, the women and I filled the bags that each family had brought with them.
By 4pm, all that was left were a few bunches of bananas and a handful of limes. $730 worth of groceries gone in less than an hour. I didn't get a chance to count how many families were served (if I had to guess, it would probably be at least 60), but I'll never forget the gratitude on their faces, as they picked up the last of their food.
"Thank You"
"God Bless You"
"Muchas Gracias"
This experience really helped me realize just how lucky I am to work for an organization like United Community. I am so grateful for this opportunity to help my neighbors in need. Thanks to them, I have learned that we can all find ways to give back that are both big and small. All of us can make a difference — in our own lives and in the lives of those who need our help!

Your donation today can make a huge difference for families in need! If you would like to help, please go to www.donateuc.org and make a donation today! You can also organize a food drive by going to https://www.unitedcommunity.org/covid19-donate.html!