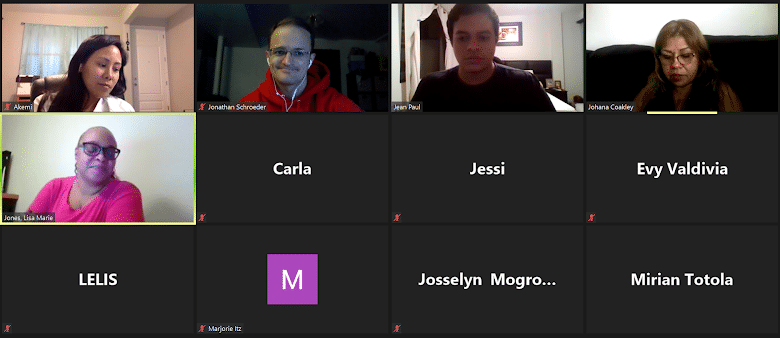 It's 6:30pm on a Sunday and Pinewood resident Mirian Totola waits anxiously for her computer to boot up. Twelve hours ahead in Guam, former Sacramento resident Johana Coakley rubs the sleep from her eyes, as she prepares herself to jump on the same meeting — a virtual International Opportunity Neighborhood English Club.
"Today, we have students joining us from Peru, Panama, Guam and the US," Lisa Jones, the group's lead facilitator explains as they join. "We're so excited to have you all with us."
By the time the class is underway, twelve eager faces stare back at her on her computer screen — half of them tuning in from somewhere outside the US. While their English skills vary from near-fluent English to broken Spanglish, all of the students have one thing in common. They are all ready and eager to learn.
"Your English is better than what you think it is," Lisa says. "I want you guys to continue to understand that you're doing a great job. It takes time to get used to speaking in English — but that's what we're here for."
"Be patient with yourself. You will never be perfect; but you will always get better."
It all started during the height of the pandemic. Johana — then a Neighborhood Ambassador with United Community's Opportunity Neighborhood Mt. Vernon — and her friend Sharling had been looking for ways to improve their English. Originally from Peru and Guatemala respectively, the two women had been taking English classes at the Progreso Center for Literacy & Citizenship for about a year. Eager to find new avenues of learning, the two friends began looking for a way to not only to develop their own vocabulary, but also to help their Spanish-speaking friends as well.
"I realized that a lot of my fellow Neighborhood Ambassadors didn't speak very much English," Johana told me later. "So we decided to form a separate group to help them practice."
The meetings started off small — a weekly zoom call with 3-4 neighbors sharing different English phrases. But as time went by, group members began to share their experiences with relatives living in other parts of the country — and even in other parts of the world. Before long, requests to join the group came in from Arizona, Peru, Guatemala, and El Salvador.
"At the rate the group was growing, we knew that if we needed to find a native speaker," Johana added. "Someone who could take the group to the next level."
That's when Johana reached out to Lisa — a fellow Neighborhood Ambassador representing the Colchester community and Secretary of the United Community Board of Directors.
"It was honestly really exciting, when they asked me" Lisa shared. "As a leadership coach, I'm used to group instruction, but this was the first time I'd done anything like this."
Lisa quickly developed a curriculum for the "semester". Each week the group would be assigned to research a specific topic that would help them develop their conversation skills — themes like Elections, Mardi Gras, The Super Bowl — and this week's theme: St. Patrick's Day.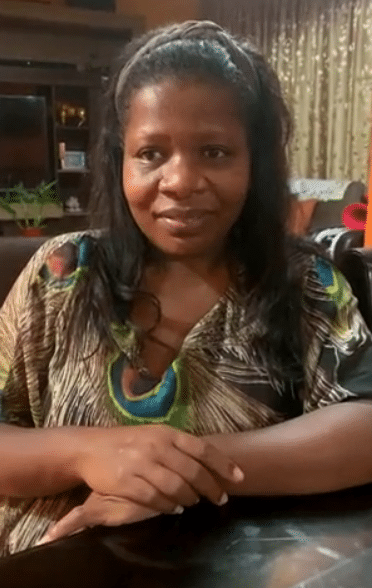 "I didn't know about St. Patrick's Day before this week," Jean Paul shares. Jean Paul is one of Johana's cousins who tunes in every week from his home in Lima, Peru. "I love being able to learn about cultural things while practicing my English at the same time."
After researching their topic, classmates share what they learned — first in break-out rooms and then together in a larger group. This is followed by what has quickly become a fan favorite for most students — an interactive Quiz Game "Kahoot!" that combines English learning with a little friendly competition.
"One of things I love about this group is that we're one big family without borders," Lisa adds. "It's not just about helping our Neighborhood Ambassadors — we want to help their loved ones as well. English is an important skill to learn, no matter where you live!"
"When I moved here, Ms. Lisa motivated me every Sunday to practice English and to keep practicing everyday," Peruvian born Akemi shares.
Like Johana, Akemi is the wife of a US Air Force Pilot and has had to make many adjustments as her family has been reassigned around the world. Their most recent reassignment to Arizona took place just a few months ago.
"Each time we move I have to make new friends," Akemi explains. "It's hard to do that, when my English isn't very good. That's why I'm grateful for this group. I know that no matter where I go, I'll always have my friends."
While Akemi may call them friends, the group feels more like a family — an atmosphere that Lisa says she hopes will help more people like her to get involved. She says she's currently looking for volunteers who can meet one-one-one with students during the week.
"These students have learned so much with just one meeting a week," Lisa explains. "Imagine where they could be if each of them had a native-speaking friend to talk to in between classes? I get excited just thinking about it!"
Want to get involved? The English Club is in need of volunteers who can help students practice their English for a few hours during the week! Click here for more information!