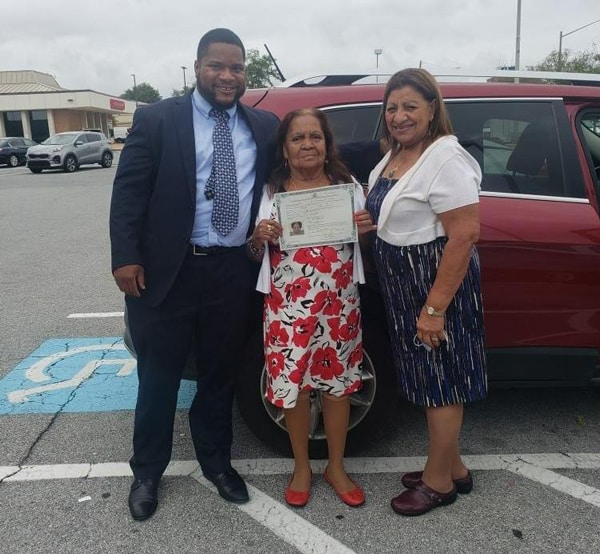 Maria is in her 70s and was born both deaf and non-verbal. She came to the United States in the 1980s from Honduras and didn't have any family in the USA except her close friend, J.E. They were raised together in Honduras and Maria lives with J.E. and her family here in Virginia. 
In the 1990s Maria applied for U.S. Citizenship, but when you apply for citizenship there is a mandatory, verbal Oath of Allegiance to the United States. Maria was unable to complete that and does not have immediate family in the USA to stand as proxy and recite it for her. She was denied citizenship and didn't try again until 2019 when she came to Progreso.
With the help of Natasha Chakraborty, our Immigration Attorney at the time, they prepared Maria's Application for Naturalization, a fee waiver, and relevant evidence of her disability. Despite all their efforts, Maria was denied citizenship again and told to gather more evidence of her disability. That's when our current Immigration Attorney, Harith Mazrui, took over and completed a Medical Certification that showed enough evidence of disability for Maria to be exempt from taking the citizenship test and exam. With those steps out of the way, there was one remaining roadblock: how to do the verbal Oath.
Since Maria has no "family" in the United States to stand as proxy, J.E. stepped up. With the help of Harith and Denise Pitts at Legal Service of Northern Virginia, J.E. became Maria's legal guardian. With J.E. now able to recite the Oath for Maria and waivers in hand, Maria was finally granted citizenship on September 22, 2021.
Progreso serves adults 18 years and older with English and Citizenship classes as well as offers Immigration legal services. We have students of all ages gaining the language skills they need to succeed and many immigration success stories like Maria's.
Learn more about Progreso Literacy and Citizenship Center and our other programs that help people who come from all over the world.