The volunteer teachers at Progreso Literacy and Citizenship Center received a Stronger Together nomination at the 30th Annual Fairfax County Volunteer Service Awards.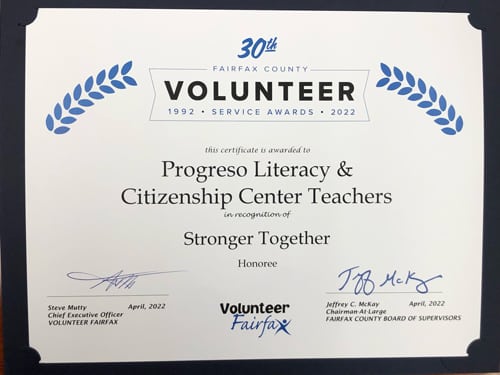 Progreso has at least 10 teachers who volunteer their time to help refugees and immigrants in our community. They lead semester-long English and Citizenship courses. Many of them have served the community at Progreso for more than 10 years. In fact, one volunteer has been with Progreso since 2003.
The work of volunteers at Progreso and all of our programs makes a huge difference in helping us serve the community, and it is a reminder that acts of service add up to make a huge impact for those who truly need it.
For more information about Progreso and volunteer opportunities, contact Cristina Schoendorf at cristina.schoendorf@unitedcommunity.org.